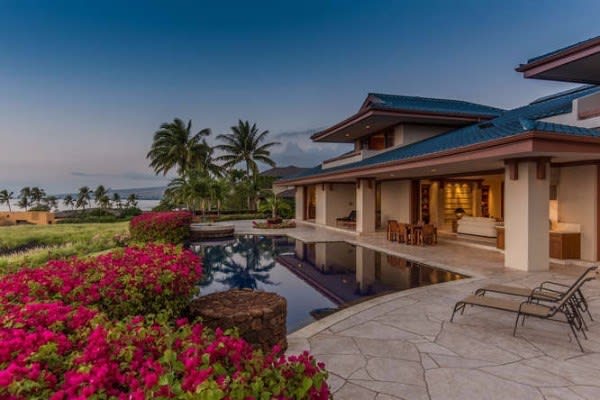 62-3652 N KIEKIENA PL, Kamuela, HI 96743
Given that the Super Bowl is still fresh in our memories, we thought it would be interesting to delve into some of the luxury homes owned by a few of the most famous NFL players. Below we've revealed a few of the details about some of the luxury properties owned by Peyton Manning, Deion Sanders, Tom Brady, Roman Harper, and J.J. Watt.
Recently, Denver Broncos quarterback Peyton Manning bought
a 16,000 sq. ft. estate in the heart of Denver
. This beautiful mansion sits on 3.5 acres and boasts a wine cellar, seven bedrooms, a safe room, and heated garage. Manning reportedly paid $4.575 million for the estate.
Of course we all know everything is bigger in Texas, and that's certainly true of Deion Sanders' luxury estate complete with tennis court, basketball court, two pools, a lake, and even a football field. With more than 29,000 sq. ft., this home is sure to be fabulous!
Speaking of the Super Bowl, Carolina Panthers safety
Roman Harper's luxury home
boasts a health club, junior Olympic pool, and 70-inch television which fans got to watch the big game on when Harper rented out his home to a few lucky people; the proceeds donated to Harper's Hope 41 Foundation. The luxury condo is located in Charlotte, NC and boasts floor to ceiling glass exterior walls overlooking the city, hardwood floors, and an elegant 50th floor SKY lounge.
Those who love privacy would find no more secluded a spot than
JJ Watts Waukesha County rustic log cabin
sitting on 35 acres of land. The 4th highest paid NFL player last year, Watts' cabin offers 4,500 sq. ft. of living space and is valued at $800,000, not a bad price for a home with attached barn and inside elevator – and for some, you can't put a price on privacy! It is reported Watts purchased the log cabin to limit distractions.
Luxury real estate isn't limited to celebrities; anyone who desires the finer things in life, an enhanced living experience, and who is financially secure can enjoy luxurious surroundings. Where better to surround yourself in luxury than on the Big Island of Hawaii? Mauna Kea Realty has beautifully designed homes featuring all of the amenities you could want in every price range. Call us today
!